The Medigap plans are Federally-standardized. All companies must follow the Medigap coverage chart below. In other words, a Plan F with one company is the same as a Plan F with another company. And, a Plan G is a Plan G, no matter what insurance company you use to provide the coverage.
Because of the plan standardization, it is very easy to compare plans in a straight-forward way. Although the benefits are standardized, premiums are definitely not. In fact, you will find that premiums for the exact same plan vary as much as 30-50% depending on which insurance company you choose. It is important to choose a plan based primarily on price.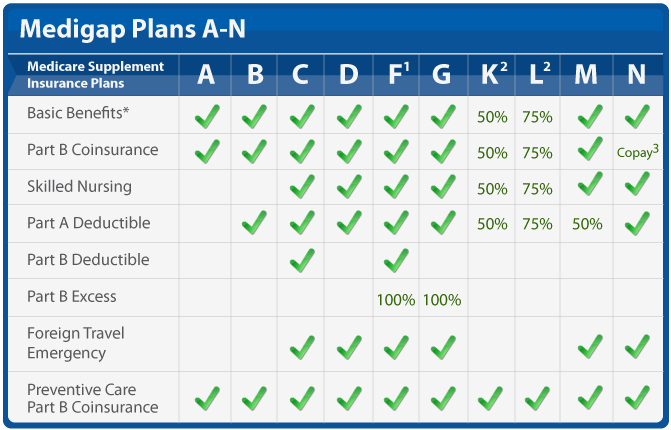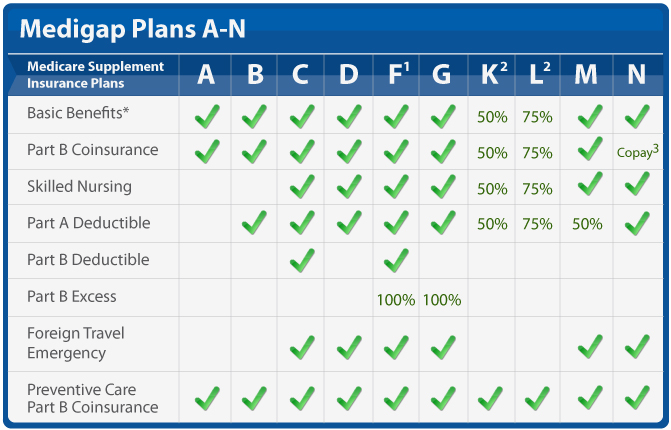 1) Plan F also offers a "high deductible" option. For 2016, that deductible is $2,180. You must pay that much out of pocket before the plan pays anything. This is not a popular option with companies or consumers, but there are companies that do offer it and premiums are lower than most other plans.
2) Plans K and L have an annual out of pocket limit. For 2016, those amounts are $4960 (K) and $2480 (L). Once you meet that amount, in addition to meeting your Medicare Part B deductible ($166/year for 2016), the plan pays 100% of covered services for the rest of the calendar year.
3) Plan N has a co-pay structure for doctor and ER visits. You must pay an "up to $20" co-pay per doctor visit on this plan and a $50 emergency room co-pay.
Why is the Medigap Coverage Chart Important?
The Medigap coverage chart shows you exactly what a Medigap plan will cover, regardless of which company you use to obtain the coverage. This allows you to pick a coverage level that you are comfortable with, then compare multiple companies that offer that specific plan.
All companies do not offer all plans. On the contrary, most companies only offer 3-4 of the plans. The plans that are most commonly offered are Plan F, Plan G and Plan N. This does not necessarily mean that those are the best choices for you; however, between those three plans, they have over 80% of the market share for Medigap plans.