65Medicare.org was designed with you in mind. Our mission is to turn the overwhelming glut of Medicare information you receive when turning 65 into unbiased, useful resources that are both easy to understand and comprehensive. 

Although we have positioned ourselves as, and believe we are, a one-stop shop for Medicare and Medigap information for someone turning 65, we also wanted to provide a comprehensive list of Medicare resources.
Enrolling in Medicare
Application for Enrollment in Medicare Part B (pdf) – use this .pdf document to apply for Medicare Part B if you already have Medicare Part A and just need to add Medicare Part B.
Apply Online for Retirement/Medicare Benefits – go to this website to get started on applying for Social Security and/or Medicare benefits.
Medicare Resources – General
Medicare.gov Home Page – this is Medicare's main website homepage,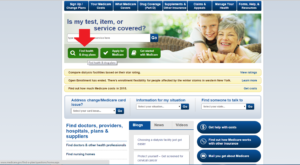 the most vital of the Medicare resources. From here, you can research/compare Medicare Part D prescription drug plans and get answered to commonly asked questions.
MyMedicare.gov – this is Medicare's secure, free, personalized site for accessing personal information about your Medicare benefits – i.e. claims histories/status, benefit/plan information, etc.
Medicare and Dental Care – this is one of Medicare's resources about whether, and to what extent, Medicare covers dental services/procedures.
Does Medicare Cover Preventive Care – this is one of several Medicare resources that covers this topic. It details the preventive care services that Medicare covers and the frequency at which they are covered.
IRMA (Income-Related Monthly Adjustments) for Part B and Part D – this page on Social Security's website details who pays the IRMA amounts for Medicare Parts B and D. These are the income-related monthly premium adjustments for Part B and Part D.
Medicare and Long-Term Care – this is one of several Medicare resources showing information about Medicare's limited coverage of long-term care.
Medicare Resources for Part D
Understanding Medicare Part D (Medicare's site) – this page on Medicare's website details understanding the prescription drug coverage part of Medicare (Part D)
How to Compare Medicare Part D plans – this is our useful Medicare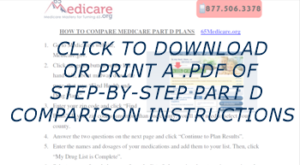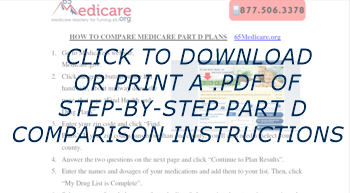 Part D resource that walks you through exactly how to conduct a Part D comparison on Medicare's website.
Extra Help for Prescription Drug Costs (Part D) – if you qualify financially, you may be eligible for "extra help" on Part D prescription drug costs. This page has more information about who qualifies and how.
Medigap Resources
"Choosing a Medigap Policy" booklet from Medicare – one of the Medicare resources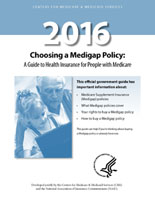 published annually, "Choosing a Medigap Policy" is a booklet with information about Medigap plans that are offered and how they work.
Medigap Coverage Chart – this is the all-important Medigap coverage chart, which shows the Federally-standardized plans that all companies must go by.
AM Best ratings subscription service – AM Best is an independent rating service of insurance companies. This is their website, from which you can access ratings of Medicare Supplement companies that you may be considering. Incidentally, it is advisable NOT to sign up or any subscription service (unless it's free) as the AM Best information should be readily available from brokers/agents.
Turning 65 Roadmap – this is the go-to turning 65 guide for people approaching the age of 65. Use this guide to navigate the Medicare maze and make an informed choice.
Contact 65Medicare.org to Get Medigap Quotes – once you have an understanding of most of these Medicare resources and are ready to take your next step, get Medigap quotes or contact us by phone