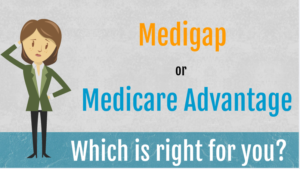 There are two options available to you when you go on Medicare – Medigap and Medicare Advantage. Although many people mistakenly lump the two together, they are very different paths in almost every way. So, what is the difference in Medigap and Medicare Advantage?
It may work best to look at the specific areas in which these plans differ. Those are broken down below.
Medigap and Medicare Advantage: Network Differences
One of the most significant differences in Medigap and Medicare Advantage plans comes in the form of network differences. Specifically, Medigap plans are non-network plans – they can be used anywhere that accepts Medicare nationwide. When comparing Medigap plans, there is no list of "in-network" vs. "out-of-network" doctors to check and no requirement of checking to see if your doctors "accept a plan". If your doctors accept Medicare, they are required to accept any Medigap plan you choose, regardless of company.
On the contrary, Medicare Advantage plans are, in almost all cases, network-based plans. These plans are specific to your county of residence and networks are typically based on that same regional/county locality. It is crucial, when comparing Medicare Advantage plans, to see if your plan is accepted by local doctors and hospitals. Otherwise, you could be faced with paying much higher out-of-pocket costs.
Of course, even if your current doctors accept your plan, or are in-network, there is always the "risk" of a new doctor or referral not being in your plan. Additionally, networks can change from time to time, which further complicates the network issue when it comes to Medicare Advantage options.
Medigap and Medicare Advantage: Premium Differences
Besides the differences in networks for Medigap and Medicare Advantage, there are also significant premium differences. Medicare Advantage plan premiums are subsidized by Medicare. Medicare Advantage is, essentially, a privatized form of Medicare, and Medicare reimburses the private insurance company to manage your Medicare benefits.
As such, premiums for Medicare Advantage are, generally speaking, lower than Medigap premiums. This not true in all areas and with all plans, of course, but on average, you would pay more for a Medigap plan than a Medicare Advantage plan.
Looking specifically at Medigap plans, too, the premiums vary considerably from company to company, even for the same standardized coverage. Also, premiums for Medigap plans vary considerably in different parts of the country.
Medigap and Medicare Advantage: Coverage Differences
Looking at the coverage differences in Medigap and Medicare Advantage, it is very apparent that there are significant differences.
Medigap plans are designed to fill in the gaps in traditional Medicare. As such, there is a not a list of co-pays for different services/procedures. Instead, there is a list of which gaps are/are not covered by the specific Medigap plan that you choose. On average, Medigap plans are very comprehensive. Plan F, for example, fills in all the "gaps" in Medicare, and Plan G fills in all the "gaps" except for the Medicare Part B deductible (currently $183/year), meaning that would be your only out-of-pocket costs.
Medicare Advantage plans, on the other hand, use an extensive lists of co-pay amounts and percentages for services/procedures that are covered under the plan. These co-pays and percentages vary considerably from one plan to another and should be extensively compared if considering multiple Medicare Advantage plan options.
Medigap and Medicare Advantage: Future Portability Differences
This is one of the less-understood differences between Medigap and Medicare Advantage plans. When you are first eligible for Medicare, you have an initial open enrollment period during which you can choose between the two plan options – Medigap or Medicare Advantage. You can do this with no underwriting, health questions or restrictions.
After that initial period, you must "qualify medically" to get a Medigap plan in most situations. However, you can go to a Medicare Advantage during future annual election periods (October 15-December 7 each year). This means that is much easier to go from Medigap to Medicare Advantage than the other way around. The annual election period does not permit a move from Advantage plan to Medigap plan unless you "qualify medically" to do so.
What is sometimes seen, in practice, is that those with poor, or even average, health cannot get from an Advantage plan to a Medigap plan at a later time. This makes the initial selection between these two options very crucial.
Medigap and Medicare Advantage: Long-Term Stability/Changes
Both Medigap and Medicare Advantage plans can be viable solutions, depending on your situation. It is important to take all of these differences into account when choosing a plan.
Another consideration is the long-term stability or changes to the plan you choose. Medigap plans are "guaranteeed renewable" – as long as you pay the premium, your plan can never be cancelled and benefits cannot be changed. The plans automatically "expand" to fill any Medicare "gaps" that they cover.
However, with Medicare Advantage plans, coverage and plan availability does change each year. It is imperative that you, annually or at least bi-annually, compare your coverage to ensure that it is still going to be offered in the new year and to see how the coverage, premiums, networks, co-pays, etc. are changing.
Regardless of which option you choose, take the time to look at each of these differences and make sure to make a prudent choice that is going to be good with a long-term perspective. If you have questions or want to discuss specific plan options, you can reach us at 877.506.3378 or by contacting us online.