Medicare Part B is the part of Medicare that covers doctor's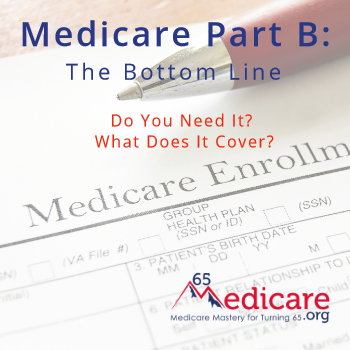 visits/outpatient. It is, along with Medicare Part A, part of "original" Medicare. It is sometimes referred to as "Medical Part B".
Medicare Part B is an optional part of Medicare. If you are still working past age 65 or have other coverage through a group, former employer, etc. it may be a good idea to delay enrollment in Part B.
If you are going on Medicare, as your primary coverage when you turn 65, it is a good idea to understand what types of things fall under Medicare Part B coverage.
What Does Medicare Part B Cover?
Generally speaking, Medicare Part B covers medically-necessary services at a doctor's office and supplies/equipment that are needed to diagnose or treat your medical condition.
Here is a more comprehensive list of things that are covered under Medicare Part B:
Preventive Services
Doctor Visits
Clinical Research
Ambulance Services
Durable Medical Equipment (DME)
Mental health services (inpatient, outpatient, and partial hospitalization)
Labwork
Outpatient Procedures
Does Medicare Part B Cover Everything?
Medicare Part B is designed to be comprehensive coverage. However, it does not cover everything and certainly not at 100%.
First of all, Medicare Part B has a deductible that must be met before any coverage begins. This deductible, for 2016, is $166/year. After that deductible is met, Medicare Part B covers most things at 80%. If you have a Medigap plan, your plan will pay that deductible (on some plans) and the remaining 20% (on most plans).
There are a few other things that Part B does not cover at all, including:
Dental Care
Long-term care
Dentures
Eye Examinations
Cosmetic Surgery
Acupuncture
Routine Foot Care
Hearing Aids or Exams for Fitting Them
What Does Medicare Part B Cost?
There is a premium associated with Medicare Part B. For 2016, that premium is $121.80/mo for most people who are turning 65. If you fall into one of Medicare's higher income brackets, you may have to pay more than that. This is called IRMA (Income-Related Monthly Premium Adjustment for Part B).

The premium for Part B does change annually in most years. There is a "hold harmless" provision that prevents increases in the Part B premium during years in which there is no cost-of-living increase to Social Security payments. In that instance, your Part B premium would stay the same, although premiums for new Medicare-eligibles may be higher. For this reason, different people are sometimes paying different amounts for the same Part B benefits.
Most people choose to pay the Part B premiums directly out of their Social Security checks. This is, by far, the easiest way to pay the premiums. However, if you are not receiving Social Security yet, or do not want to pay it that way, you do have the option of being billed by Social Security for your Part B premiums on a quarterly basis.
How Do I Sign Up for Medicare Part B?
Signing up for Medicare Part B is very easy to do. First of all, if you are already receiving Social Security when you turn 65, you will be enrolled automatically into Medicare Parts A and B. They will begin on the 1st day of the month that you turn 65. The only exception to this is if your birthday is on the 1st of a month – in this case, your Medicare will begin on the 1st of the preceding month.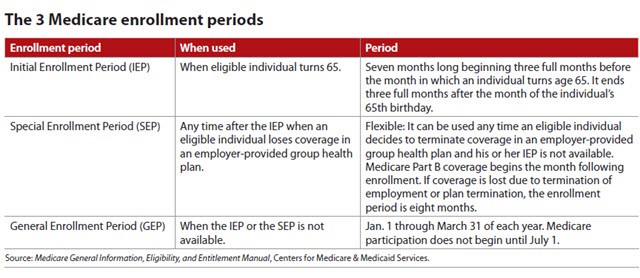 If you are NOT receiving Social Security as you approach your 65th birthday, you will not be automatically enrolled in Part B. In this case, you will need to contact Social Security to enroll in Part B. The start date will still be the same – 1st day of the month you turn 65 – unless you specify otherwise.
You can contact Social Security at a local Social Security office or by calling 1-800-772-1213.
How Does Part B Work with My Medigap Plan?
If you have, or are getting, a Medigap plan, your Medicare Part B will act as primary coverage (along with Part A). The Medigap plan will fill in the "gaps" that are not covered by Medicare Parts A and B. Different Medigap plans cover different gaps. You can read more about that on the Medigap coverage chart.

One commonly asked question that pertains to Part B is about Medicare Part B Excess charges. These charges occur when a doctor does not accept Medicare "assignment" (i.e. the Medicare payment schedule). A doctor can charge up to 15% above the Medicare payment schedule in the form of an "excess charge". Some Medigap plans cover those charges – some do not. There is more information about that here: Part B Excess charges.