This is your all-in-one resource for Medigap plans when you are turning 65. Many people get overwhelmed with the glut of information you receive leading up to when you turn 65; however, with Medigap plans, it does not have to be as complex as it seems. In reality, the plans are very straight-forward and easy to understand – choosing a Medigap plan is the easiest decision to make when you are turning 65.
Top 5 Things You Need to Know about Medigap Plans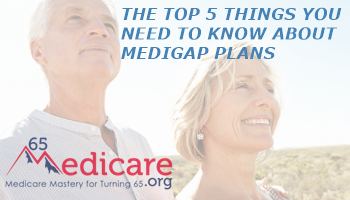 Medigap plans are Federally-standardized. This is the chart they go by. Companies cannot offer plans or benefits that deviate from this chart. A Plan F is a Plan F, a Plan G is a Plan G, etc. – no matter what insurance company is selling it.
All Medigap plans are non-network plans. All plans can be used at any doctor/hospital nationwide, as long as they take Medicare (which remains your primary insurance). There are no networks, referrals, etc – they are not PPOs or HMOs.
One Medigap company does not pay claims "better", or faster, than another. Despite what that slick agent wants you to believe, all Medigap companies pay claims through the Medicare "crossover" system. This means that they pay in the same amount and on the same time schedule, regardless of what company your coverage is with.
Although coverage, doctor availability and claims payments are the same with all companies, the prices for Medigap plans vary considerably. It is crucial to pick a competitively priced company or end up padding the insurance companies pocket for no extra benefits to you.
There is NOT an annual enrollment period for Medigap plans. Did you get that? There is NOT an annual enrollment period for Medigap plans. Everyone mistakenly believes that there is. The end-of-year enrollment period is for Part D (Rx coverage). You have to qualify medically to change Medigap plans after your initial turning-65 enrollment period. This is why it is even more important to pick a plan that is the lowest, or close to the lowest price, when you first sign up.
What Medigap Plans Cover
Medigap plan coverage is defined by Medicare itself. The Center for Medicare & Medicaid services  (CMS) has established a Medigap coverage chart that all Medigap plans must follow. It can be seen to the right or here.
Medigap plans are designed to fill in the "gaps" in Medicare. Different plans fill in some or all of those gaps. Each plan goes by a letter (A-N) – some letters are "missing" because some of the plans were eliminated when the plans were re-standardized in 2010. There are plan-specific pages on our website, but below, you can see a succinct list of what each plan covers.
Plan A: Medigap Plan A is the most basic coverage plan. It covers "basic benefits" –  20% Part B coinsurance, hospital coinsurance, an additional 365 hospital days past what Medicare covers, and the first 3 pints of blood each calendar year. It also covers the Part A coinsurance and Part B coinsurance for preventive care. It does NOT cover the Medicare Part A or Part B deductibles, Part B Excess charges or skilled nursing facility coinsurance.
Plan B: Medigap Plan B is one step up from Plan A. In addition to the benefits listed under Plan A above, it also covers the Medicare Part A deductible.
Plan C: Medigap Plan C is one of the more comprehensive Medigap plans. It fills in all the gaps in Medicare, paying the deductibles, coinsurance and co-payments under Medicare Parts A (hospital/inpatient) and B (outpatient/doctor charges). The only exception to what is covered under Plan C is the coverage of the Medicare Part B Excess charges. (What are Medicare Part B Excess charges?).
Plan D: Medigap Plan D is very similar to Plan C above. Like Plan C, Plan D does not cover the Part B Excess charges. The only difference between Plans C and D is that Plan D also does not cover the Medicare Part B deductible. Don't make the common mistake of confusing Plan D with PART D (the Rx coverage part of Medicare, which is always a separate plan and a separate thing entirely).

Plan F: Medigap Plan F is the most common and comprehensive Medigap plan. It pays everything that Medicare Part A and Medicare Part B do not cover. As such, it is the easiest plan to explain/understand, and it is chosen by the largest percentage of Medicare beneficiaries that sign up for a plan. That said, it is not always the best "deal" so you should look at rates for your specific situation.
Plan G: Plan G is the plan that has increased its market share most significantly in recent years. Plan G is the next step "down" from 'F'. It pays everything that Medicare does not pay except for the Medicare Part B deductible, which is currently set at $166/year (for 2016).

Plan K: Plan K is one of the Medigap plans, along with Plan L, that covers most benefits at a percentage. For Plan K, that percentage is 50%. It does cover 100% of the Medicare Part A (hospital) coinsurance. But for most other benefits, it covers them at 50% or not at all. Plan K is not a very commonly offered (or chosen) option.
Plan L: Like Plan K, Plan L covers most benefits at a percentage. It does pay 100% of the Medicare Part A coinsurance. But for other benefits, it pays 75%. Also, like Plan K, not many companies offer this plan.
Plan M: Plan M is one of the newer Medigap plans – it originated in 2010. Plan M pays 100% on Part A and B coinsurance. It does not cover the Medicare Part B deductible or the Part B Excess charges, but does pay 50% on the Part A deductible.
Plan N: Plan N started at the same time as Plan M. It has gained more traction than Plan M, however, as a viable alternative for people in relatively good health with few recurring doctor visits. Plan N does not cover the Medicare Part B deductible, the Part B Excess charges, and it has cost-sharing (i.e. co-pays) on doctor visits – $20 at the doctor's office and $50 at the emergency room.
How Medigap Plans Work
One of the most commonly asked questions when people turn 65 is how Medigap plans work and if your doctor will "take" your plan. There is a very short and easy answer to this – if they take Medicare (your primary coverage), they are required to take a Medigap from any company.
Medigap plans do not have networks. They are non-network plans (unlike Medicare replacement plans, like Medicare Advantage, which are PPOs or HMOs). Medigap plans can be used at any doctor or hospital that takes Medicare nationwide.
Likewise, another common concern is whether a company will "pay well". Will you have to follow up to make sure all claims are paid? Will you have to fill out forms at the doctor and file them to your supplement company? Similarly, to the network concern, there is a very straight-forward answer here. All plans use the Medicare "crossover" system. This is Medicare's automated claims paying system, which ensures that the medical providers are paid on the same time schedule and in the same amount, regardless of what insurance company it is.

While many people turning 65 are coming out of group plans or even pricey individual plans, using a Medicare Supplement plan is comparatively much easier with much fewer issues or complications – regardless of which plan or company you choose.
How to Get a Medigap Plan
So, now you are armed and dangerous – with all the Medigap plans knowledge you will possibly need. What's the next step?
Getting a Medigap plan is not as hard as many people make it out to be. There are several options, of course. The first option is to get a list of the companies that offer plans in your zip code. You can contact each company – either by phone or online – to obtain their current pricing for your age and zip code. This is, obviously, very time-consuming, as most areas have 20-30 companies that offer plans.
Another option is to just ask your neighbor, friend from church or family member what they have. Then, just sign up for that plan. Surely they know what they're doing right!?!? Believe it or not, that's what many people do and we routinely see people paying literally $1000-1500/year more than they need to for equivalent coverage. On a fixed income, that is not insignificant.

The last option is the most advisable, no matter whether you use or someone else. You can get a Medigap plan through an independent broker. An independent broker can provide all of the information you want from all the companies you want in a centralized, unbiased way. There is no cost for this. Broker compensation is already built in to the premiums, so in essence, you are paying for this service whether you use it or not. Brokers can also be a resource for you after you pick a plan, giving you a dedicated person to call if you have problems or questions as opposed to an hourly worker in a call room somewhere at the company.