Other Medigap plans are available as well. While the majority of people going on Medicare choose from the three most common Medigap plans – Plan F, Plan G or Plan N, there are actually ten Federally-standardized Medigap plans. Here is the chart that shows all ten plans and what they cover: Medigap coverage chart.
Approximately 90% of new to Medicare beneficiaries choose from the three most common plans. This is, in large part, because those are the plans that most companies offer. Many companies do not offer the less popular plans. There are several reasons for this. One, it costs them money to implement sales and marketing for each new plan. Also, many of the other 7 plans duplicate or closely mirror the three more common plans (i.e. Plan D is very similar to Plan G, Plan C is almost identical to Plan F, etc).

Below, let's take a look specifically at some of these other Medigap plans and what they cover.
Medigap Plan C
Medigap Plan C is a relatively common choice in SOME states. It is very similar to Plan F, having only one benefit difference from Plan F benefits.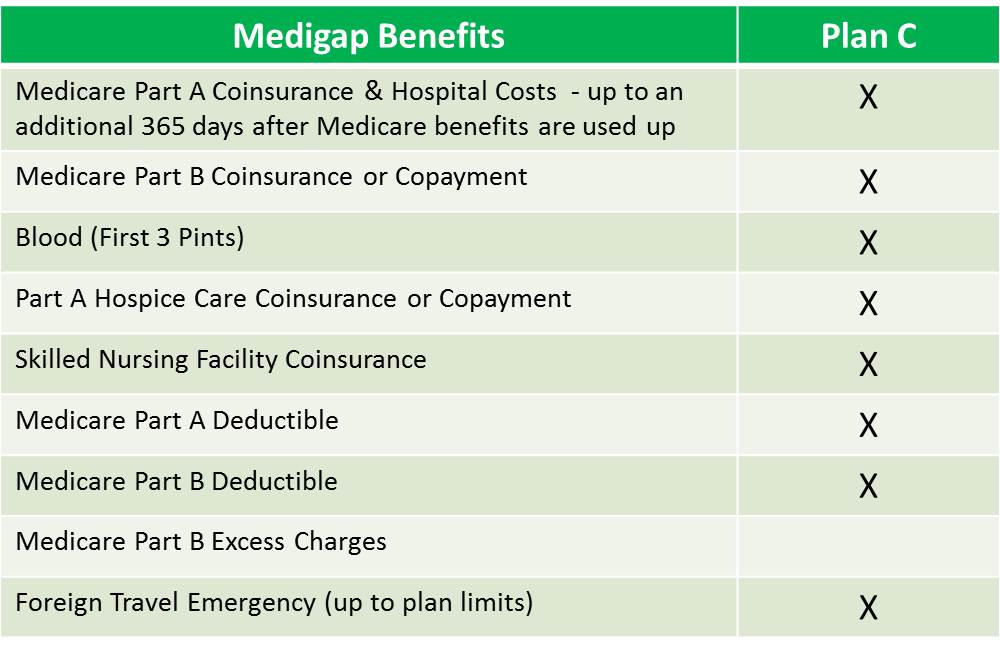 Keep in mind that Plan F is the most common and comprehensive plan – it pays everything that Medicare doesn't cover at the doctor/hospital. Plan C does the same with the exception of the Medicare Part B Excess charges. Part B Excess charges occur when a doctor does not accept Medicare "assignment" (the Medicare fee schedule). He or she can charge up to 15% above the Medicare fee schedule as an "excess charge". This only happens in around 5% of instances nationally, so it's not a common phenomenon. But it is something to be aware of if you have a plan that does not cover Medicare Part B Excess charges, such as Plan C.
So, since the "excess charges" are so rare and that is the only difference in Plans C and F, why not save some money and go with Plan C instead of Plan F? Well, in reality, the premium differences are very minimal between the two plans. In most cases, the savings is only $1-2/month by choosing Plan C over Plan F. Insurance companies put very little actuarial value on that Part B Excess charges benefit.
There are a few states – OH, PA, NY, MN, CT, MA, RI, and VT currently – that prohibit the charging of these Part B Excess charges. In these states, if there is a savings by going with a Plan C vs. a Plan F, it may make sense to consider doing so. While you are in your home state, you cannot be charged "excess charges". Keep in mind, though, if you receive care outside of your home state, the "excess charges" may apply.
All in all, very few companies even offer Plan C. And for those that do, it is typically not the best value. Moreover, Plan C, by all accounts, is on the same 2020 "chopping block" as Plan F, due to the 2014 legislation that ended "first dollar" coverage. So the life span of Plan C, like Plan F, may be very limited.
Medigap Plan D
Of the other Medigap plans, Medigap Plan D can be a good deal where it is offered. It is very similar to Medigap Plan G, with only one benefit difference. Just like the difference in Plans F and C, the only difference in Plans G and D is the coverage of the Medicare Part B Excess charges. Whereas Plan G covers those at 100%, Plan D does not cover them at all.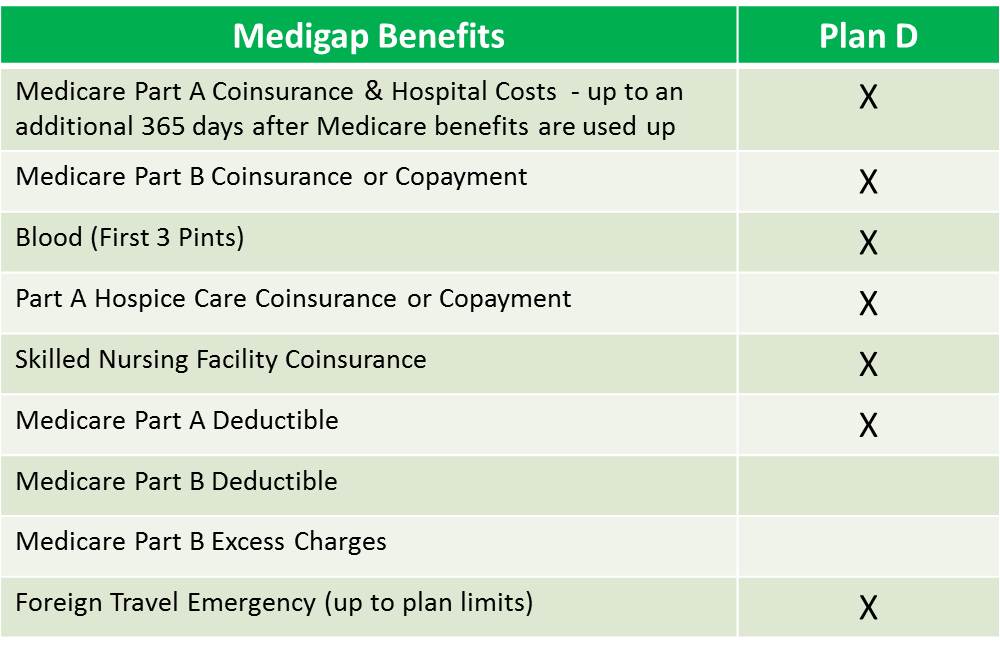 If you have Medigap Plan D, the out-of-pocket charges you are subject to are the Medicare Part B deductible (currently $166/year) and the possible Medicare Part B Excess charges.
Just like with Plan C, though, Plan D is not offered very commonly or in most states. Most companies have elected to go with Plans F and G as the more common choices. Plan D, also, where it is offered, is not typically very different in price from Plan G.
Where it is offered, though, if you can save a few extra dollars a month and only lose the coverage benefit of Part B Excess charges, it may be worth considering. Also, Plan D, like Plan G, is historically very stable over time due to not being offered in certain "guaranteed issue" situations. This means that you have to qualify medically to get this plan after your initial open enrollment period. Over time, this creates a healthier "pool" of insureds, fewer claims and smaller/less frequent rate increases.
Medigap Plans A and B
Medigap Plans A and B are the two most basic other Medigap plans. They provide limited coverage and are very infrequently chosen, making up a small percentage of the overall Medigap market.
It is required, in most states, that if an insurance company is going to offer any plans, they must include one of Plan A or B. So, these two plans are both offered by many insurance companies; however, they do not get chosen frequently because of the more limited coverage and relatively minute savings they offer.
Medigap Plan A does cover 100% of some benefits – Part A coinsurance, Part B coinsurance, blood, and Part A hospice coinsurance. However, it does not provide any coverage for the other benefits. Medigap Plan B covers the aforementioned benefits covered by Plan A and also adds in coverage of the Medicare Part A deductible.
Although this coverage may be enough for some people or in some situations, the premiums on Plan A and Plan B are often only $10-20/month lower than premiums on plans that cover significantly more.
The other big consideration, if you are going to choose a lower level plan when you turn 65, is your future options. Keep in mind that any time you change plans, after your initial turning 65 open enrollment, you have to "qualify medically" to do so. So if you choose a lower plan when you are first eligible for Medicare, you should feel comfortable with it long-term as you may be "stuck" with it if you have or develop pre-existing conditions.
Medigap Plans K, L and M
Other Medigap Plans, K, L and M, make up a very small percentage of the Medigap market. In fact, it is difficult to find a company that sells these plans or a person that has these plans. For whatever reasons, the plans have not taken off as popular options.
One possible explanation for why these plans are not commonly offered or chosen is that they are more complex than most other plans. They utilize percentages of benefits instead of fully covering the different Medicare "gaps". In other words, instead of covering or not covering certain "gaps" in Medicare, they cover a percentage of it. The percentage varies by benefit and plan. For example, Plan K covers 50% of the Part B coinsurance, blood, Part A hospice coinsurance, skilled nursing facility coinsurance, and Part A deductible.
If you are interested in exploring these plans specifically, the firs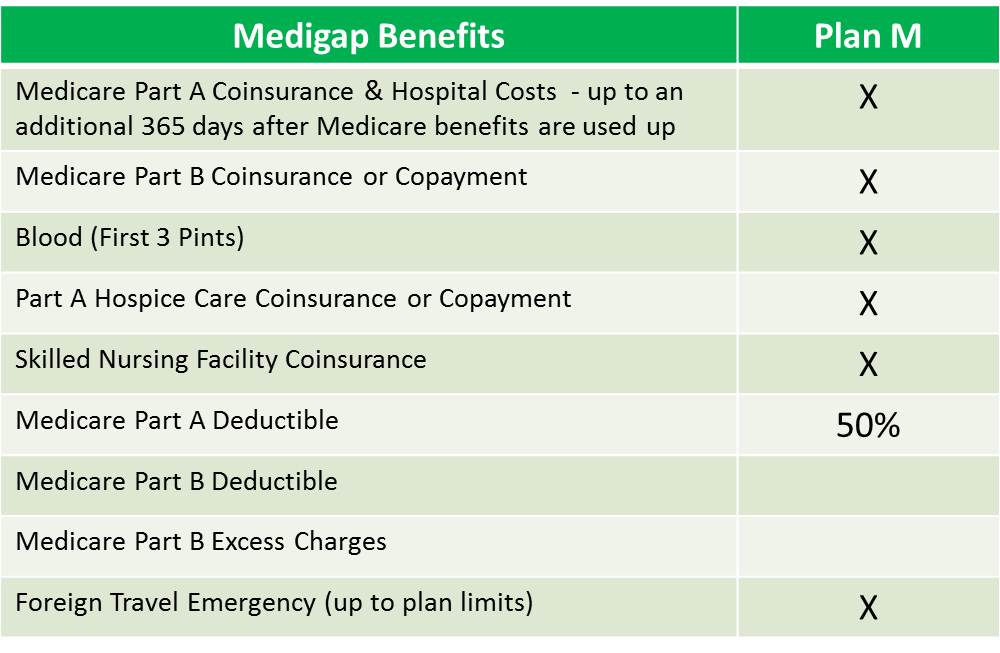 t step would be to find out if any companies offer them in your area. There are usually only a few companies offering these plans in each area, so it would make sense to confirm that there are companies that offer them and find out what the prices are. Often, because of the limited competition, prices on these plans are the same or more as much more comprehensive plans, making them even more obsolete.
Other Medigap Plans – The Bottom Line
While some of these less common other Medigap plans, like Plan C and Plan D, may make sense in certain situations, the bottom line is that they are not just commonly offered or chosen plans. Many companies focus their attention on 2-3 plans that they are going to offer.
If you want to consider one of these plans, check to see if they are offered in your area and how the pricing compares to the more commonly offered options. Because there is usually less competition (fewer companies) on these plans, the savings off of more common and comprehensive plans are often very small.
If you have questions or want to discuss these or other options, you can contact us online or call us at 877.506.3378. Also, you can visit our how to choose a Medigap plan page for additional information on comparing your options.