Medicare Part B is the part of "original" Medicare that covers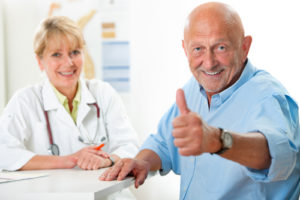 doctor visits and outpatient procedures. If you are new to Medicare, signing up for Medicare Part B is essential to do if Medicare is going to be your primary coverage. But you may be wondering, specifically, what does Medicare Part B cover?
What Does Medicare Part B Cover?
Medicare Part B covers medically-necessary doctors' services. Below is a list of specifics regarding what is covered under Medicare Part B:
Medically-necessary doctors' visits/services
Ambulance services
Durable medical equipment (DME) – if your doctor certifies you need it and you use a Medicare-approved supplier to get it (Use this directory to find a Medicare-approved provider)
Many preventive care services (see below)
Outpatient physical, speech, and occupational therapy services
Chiropractic care when manual manipulation of the spine is medically necessary to fix a subluxation
Outpatient mental health services
Home health services – skilled nursing or therapy services
X-rays and lab tests
SOME prescription drugs (most covered under Medicare Part D), including some anti-cancer drugs, immunosuppressant drugs, some dialysis drugs, and physician-administered drugs that patients do not administer themselves

Medicare's website, Medicare.gov, also contains additional information about specific medical services that are/are not covered under Medicare Part B.
What Preventive Care Services Are Covered Under Medicare Part B?
In the last several years, the amount of preventive services that are covered under Medicare has gradually increased. Contrary to popular misconception, Medicare actually does cover many needed preventive care services/tests. These services are covered under Medicare Part B.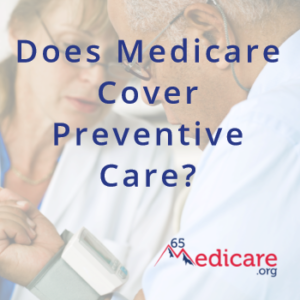 So, how do you determine what preventive care is covered under Medicare Part B? Your doctor's office should have access to and information about which services are Medicare-covered and how frequently. The biggest "catch" that we see with this is that certain tests are covered in multiple year intervals. For example, Medicare covers bone density screenings every two years, and if you have the testing more frequently than that – even if it's just a few days before the two year mark – you could find yourself with a non-covered charge.
On preventive services that ARE covered by Medicare, Medicare Part B typically covers the charges in full. So, as far as preventive care services, what does Medicare Part B cover? Here is a listing of Medicare-covered services/tests:
Diabetes screening
Diabetes services and supplies
Smoking cessation
HIV screening
Depression screening
Heart disease screening
Glaucoma screening
Medical Nutritional therapy
Bone Mass measurement
Obesity screening and counseling
Mammograms
Pap smears, pelvic exams and clinical breast exams
Colon cancer screening
Prostate cancer screening
Flu Shot
Pneumonia vaccine
Hepatitis C Screening
Lung cancer screening
Annual wellness visit
"Welcome to Medicare" preventive visit

There are other Medicare-covered preventive care services that may not have been listed above.
How Does a Medigap Plan Work with Medicare Part B?
If you are signing up for a Medigap plan to go with your "traditional" Medicare Part A and B, you may be wondering how the plans will work together.
First and foremost, it is important to understand that Medicare is your primary coverage. The Medigap plan acts as a secondary coverage to regular Medicare.
A Medigap plan can be used anywhere that Medicare is accepted – regardless of what Medigap company you use. Medigap plans are non-network plans, so if a doctor takes Medicare (your primary coverage), they will also take the Medigap plan. Medigap claims are handled through the Medicare "crossover" system.

As far as coverage, Medigap plans are designed to fill in the "gaps" in regular Medicare, including Medicare Part B. Medicare Part B generally pays 80% after the Part B deductible, and the Medigap plans pay the remaining 20% with some plans also picking up that Part B deductible.
If you have other questions or wish to speak to someone directly, you can contact us online or call us at 877.506.3378.